Yesterday I held space for a group of women whom I have gotten to know in my Mothers Group. We have travelled alongside each other for fourteen months, initially meeting at Maternal Child Health Services as part of an eight week program for new mothers (we were lucky to have a third time mother join us as well).
I have offered another arts based workshop for this group before which focused on gratitude and our experience of mothering. This was in the first year of our babies lives and included juggling art making, breastfeeding, bottle feeding, eating and baby entertaining.
This recent workshop was for mothers only. We met early on a Sunday morning in the spare room of my house for some focused co-inquiry around the topic of Motherhood.
The group were invited to introduce the names of their grandmothers, mothers and children and call themselves fully present while each lighting a candle.
A speaking bowl was passed around and each person had an opportunity to talk about what was present in their lives in regards to mothering. This gave each person a chance to talk, to listen, be witnessed and held in sharing their stories.
Afterwards we took a moment to do a simple mindfulness meditation to drop into our bodies and connect with our felt senses and emotions.
These experiences were then represented using collage on paper. Representations were shared and responded to while I took down key words (those that stood out to me) as each person described what they had created and those parts of their images which held their curiosity.
Afterwards we created written statements to capture what we had come to know at that point of the inquiry.
The group decided to create small clay sculptures to hold their experiences and validate their emerging knowings. These sculptural representations could act as an anchor or totem the mothers to carry with them as a reminder of what was important in their lives.
It was such an honour to hold the space for these women whom have already had such an impact on my life as a mother. This was only the second time that we have spent time together without children. A rare and very different yet enriching way for us to be together.
Thank you to those who attended for your generosity in turning up, participating and for trusting the process.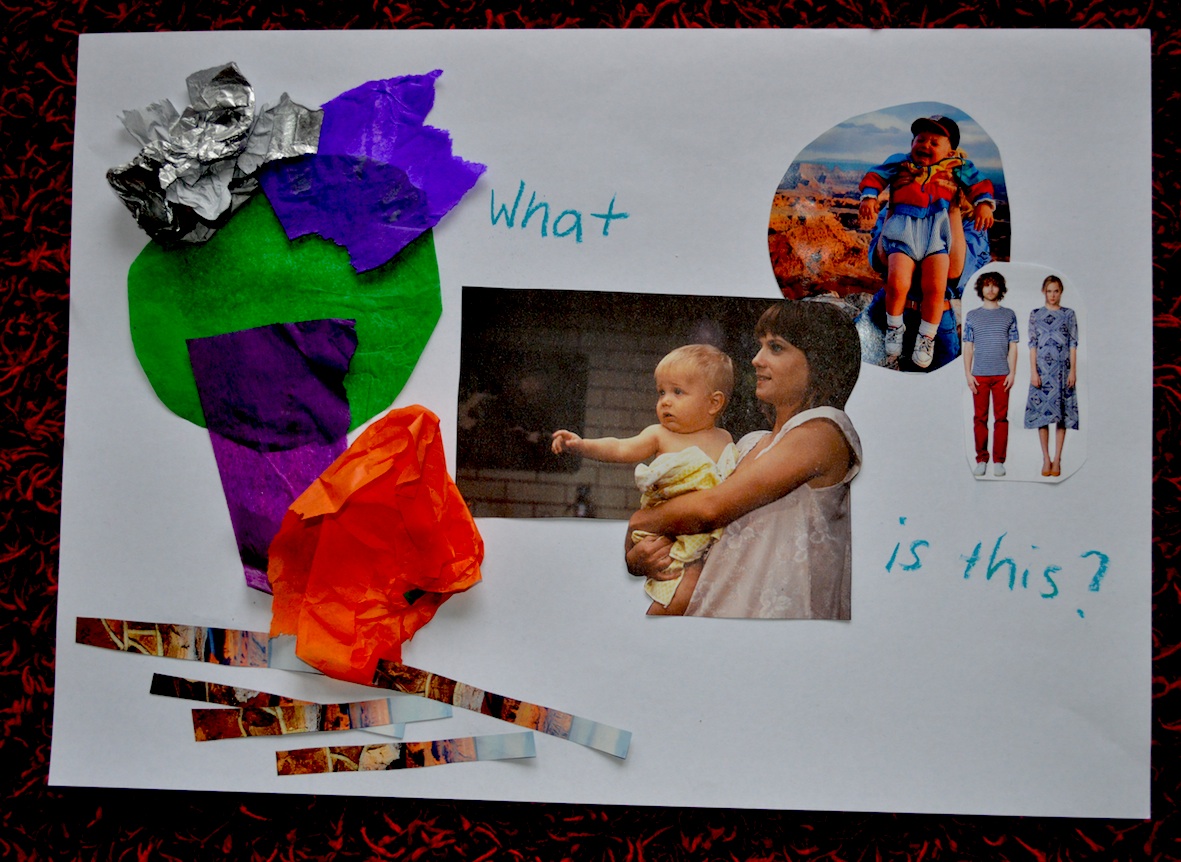 Key words from the participants* about their experience of the workshop:
"Tender, Textured, Intimate, Surprising, Safe, Reflective, Emotional, Enjoyable, Fun"
Feedback from participants*:
"Perfect combination of creating, reflecting and pausing to breathe".
"Natalya creates a welcoming and safe environment to explore, connect and play. A wonderfully nurturing experience".
"I was very unsure of what to expect at first but was instantly filled with comfort and a sense of safety upon entering the space. The process was surprising but comforting".
"I really enjoyed the workshop and the opportunity it provided for personal reflection through creating. Natalya held a safe space in which to share and process the experience".
"A great opportunity to share and reflect".
* All photographs and feedback shared with participant's signed consent.